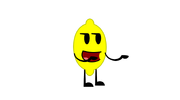 Odd Objects is a competition series created by Adam Keith with animated objects. Objects that live on a sheet of paper compete for possesion of the piece of paper they live on. Hosted by Lemon and Coffin, 20 contestants compete in dangerous challenges and the last object left after the rest are eliminated wins.
Ad blocker interference detected!
Wikia is a free-to-use site that makes money from advertising. We have a modified experience for viewers using ad blockers

Wikia is not accessible if you've made further modifications. Remove the custom ad blocker rule(s) and the page will load as expected.