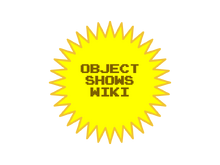 Welcome to Object Shows Wiki!
This wiki is about object shows on YouTube, their contestants, assets, places, and so much more! Why don't you help us out by creating a new page, or editing an article?
Featured article
News
June 13, 2017

Derekblue1 adopted the wiki and now an admin!

June 13, 2017

BrownFamily1108 and BluJayPJ are now admins!

June 18 2017

Merrystar enabled badges for this wiki!
Ad blocker interference detected!
Wikia is a free-to-use site that makes money from advertising. We have a modified experience for viewers using ad blockers

Wikia is not accessible if you've made further modifications. Remove the custom ad blocker rule(s) and the page will load as expected.