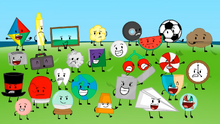 Object Overload is an object show created by XanyLeaves. In it, 31 contestants compete for $1,000,000. So far, 6 episodes have been released, and there is a preview for Episode 7 available. Originally, there

was only 27 contestants, but in Episode 3, 4 more contestants (Locky, Fly Swat, Tiki, and Television) joined the game.
The Cast
The following are the contestants that compete on Object Overload
Skyboard
Candy Comb
Throwball
Applejack
Alarm
Magicstick
Home Alone
Diamond
Pumpkin
Juice
Slime
Tent
Treehouse
Chilli
Mask (Female)
Masky (Male)
Fruit Bag
Fry
Pottery
Protector
Show Changer
Precious One
Space Toy
Medical
Harm 
Brownie
East 6
Episodes
The following is a list of episodes in Object Overload. For more information, see the Episodes of Object Overload page.
4 Beds And A Blueberry
The Matter Of Boxing Day
Cost Cozmo
Inside Onwards
Waterfalls Captured
Mission Accomplished
Do You Job, NOW
You're Save
I should have have knowed
Ad blocker interference detected!
Wikia is a free-to-use site that makes money from advertising. We have a modified experience for viewers using ad blockers

Wikia is not accessible if you've made further modifications. Remove the custom ad blocker rule(s) and the page will load as expected.