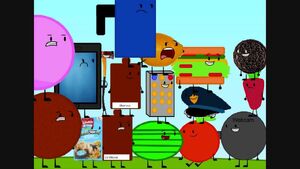 This object show is called Object Illusion. It was created by Asaph Ellison.
Characters
It consists of Gumball, iPad, Cup, Lemon, Sandwich, Oreo, Fire Axe, Shampoo, Remote, Police Hat, Strawberry, Cookie, Quadritini, Conditioner, Watermelon, Orange, and Camera.
Other Information
It currently has 9 episodes, episode 8 being made extremely fast for an episode, as it is 28 minutes, and made within a month! Oreo, Police Hat, Quadratini, Lemon, Fire Axe and Pudding Cup were not original contestants.
Ad blocker interference detected!
Wikia is a free-to-use site that makes money from advertising. We have a modified experience for viewers using ad blockers

Wikia is not accessible if you've made further modifications. Remove the custom ad blocker rule(s) and the page will load as expected.