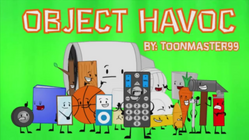 Object Havoc is a recently created object show by ToonMaster99. In it, 18 contestants battle for $5,000,000. The first episode, Platform Pandemonium, was released on May 20th, 2014. ToonMaster99 released a preview of Episode 2 on August 11th, 2014, so he is actually working on the second episode.
The Cast
The following is the list of contestants that compete in Object Havoc:
Binder
Wheel
Mirror
Stick
Plank
iPod
Lamp
Volleyball
Plate
Gold
Bullet
Bucket
Hammer
Ad blocker interference detected!
Wikia is a free-to-use site that makes money from advertising. We have a modified experience for viewers using ad blockers

Wikia is not accessible if you've made further modifications. Remove the custom ad blocker rule(s) and the page will load as expected.