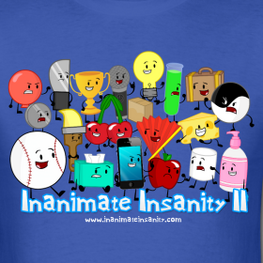 Inanimate Insanity II is the second season of Inanimate Insanity where there are 20 contestants (including Dough, who was eaten by Yin-Yang). They compete for $1,000,000. Their first challenge was to try to stand on an iceberg and the two people who stood on it the longest could pick the teams​​. Lightbulb and Baseball ended up picking the team names, naming the teams "the Grand Slams" and "the Bright Lights".
The show currently has 10 episodes, with 6 and more future episodes. Episode 11 is planned to release on December 2016
The Cast
The following is the list of contestants who compete in Inanimate Insanity II:
Ad blocker interference detected!
Wikia is a free-to-use site that makes money from advertising. We have a modified experience for viewers using ad blockers

Wikia is not accessible if you've made further modifications. Remove the custom ad blocker rule(s) and the page will load as expected.