Golf Ball is a character that has competed in Battle For Dream Island and Battle For Dream Island Again. However, when the results were revealed for BFDIA, Golf Ball didn't have enough votes, so she couldn't compete. However, an intern of BFDI, PONY707, was allowed to pick a character to compete, that didn't make it, and she picked Golf Ball. The same thing applies with Gelatin. She placed 17th in Battle For Dream Island, and her ranking in BFDIA is TBA. She has a crush on Tennis Ball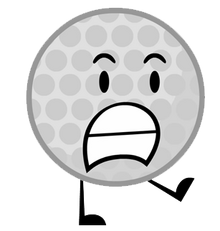 Ad blocker interference detected!
Wikia is a free-to-use site that makes money from advertising. We have a modified experience for viewers using ad blockers

Wikia is not accessible if you've made further modifications. Remove the custom ad blocker rule(s) and the page will load as expected.