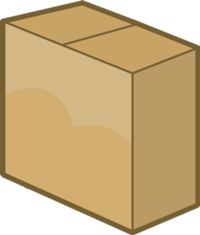 Box is a competitor on Inanimate Insanity II. He is a box, and that's practically all that's known about him. He is also very good at public speaking, as of evidence from Season 2, Episode 7. He helped bring Mephone 4 to justice. Due to the fact that he had been rather useless in helping the Grand Slams win challenges, Box was eliminated in Season 2, Episode 5.
Ad blocker interference detected!
Wikia is a free-to-use site that makes money from advertising. We have a modified experience for viewers using ad blockers

Wikia is not accessible if you've made further modifications. Remove the custom ad blocker rule(s) and the page will load as expected.