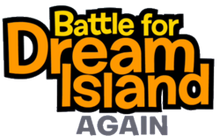 Battle for Dream Island Again (also known as BFDIA), is the second season of Battle for Dream Island. The prize is the same as the first season, with the winner winning Dream Island. However, this season is kind of pointless, as Dream Island was lost in Season 1, Episode 25, when Leafy bought Dream Island from the Announcer when Firey didn't let her onto the island. Some of the old contestants returned for Season 2, and some other contestants had their debut in Season 2. Announcer did not return to host BFDIA, and thus TV was elected to be the host. Puffball and Firey's Speaker Boxes also hosted as well.
BFDIA only has 9 episodes, counting the 4 parts of episode 5, along with the flash game, episodes. Episode 6 was supposed to release on September 1st, 2013, but the show was put on hiatus for 3 years due to Cary and Micheal's Adsense account being disabled. In 2016, episode 6 was scrapped, and on September 1st, 2016, a new season was created, called IDFB (It's Deep Fried Breaths).
The Cast
The following are the contestants that compete in BFDIA:
Episodes
BFDIA has had 5 episodes and 9 videos, along with a game called BFDIA 5b, a game that explains what happens between Episode 5a and Episode 5c. The following are the episodes in BFDIA:
Episode 5a, 5b (Flash Game), 5c, 5d, 5e
Ad blocker interference detected!
Wikia is a free-to-use site that makes money from advertising. We have a modified experience for viewers using ad blockers

Wikia is not accessible if you've made further modifications. Remove the custom ad blocker rule(s) and the page will load as expected.