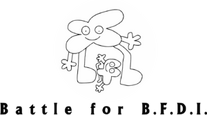 Battle For BFDI is the fourth season of Battle for Dream Island. It is hosted by Four, who previously appeared in X Finds Out His Value, an educational video by jacknjellify. The show follows 64 contestants, some new, some old, in a competition to win a "BFDI." The first episode, Getting Teardrop to Talk, was released on November 3rd, 2017.
The season also contains all the contestants from previous shows and most of the failed debuters.
Episodes
Elimination Order
Rejoins and debuts will effect the placings of the table.
Trivia
BFB is the first object show to be animated in its style, much like how Paper Puppets was the first show to be made in its form.
The prize of BFB is referred to as "A BFDI."