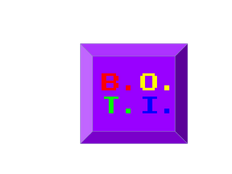 B.O.T.I. (which stands for Battle of the Items) is a new object show created by theamazinghector & Cloop421. There have been no released episodes yet, but there are preliminary photos of characters available. In the show, the contestants compete for $10,000,000. This is one of the few object shows where the contestants ACTUALLY go home in. No one can say for sure when Episode 1 will be released, but theamazinghector had said on his site that he was aiming to release the episode on January 20th, 2015.
The Cast
The following are the contestants for B.O.T.I:
Basketball
Screwdriver
Rubber Ducky
Ice Cream
Gluestick
Tire
Card Deck
Ruler
Bookmark
Tape
Duct Tape
Door
Hat
Lipstick
Textbook
Football
Calculator
Mug
Button
Headphone
Episodes
The following is the list of B.O.T.I. Episodes:
Episode 1

Pt. 1: Saving Private Muggy
Ad blocker interference detected!
Wikia is a free-to-use site that makes money from advertising. We have a modified experience for viewers using ad blockers

Wikia is not accessible if you've made further modifications. Remove the custom ad blocker rule(s) and the page will load as expected.